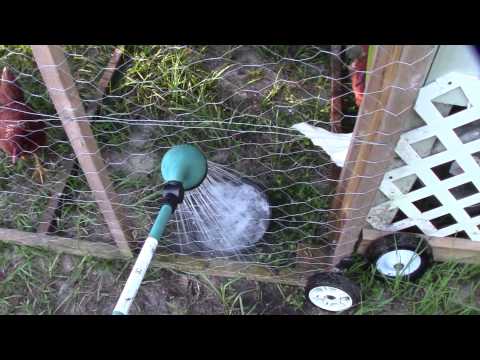 Every morning before work while everyone is still asleep, Buddy and I say good morning to the Fluffy Butt Squad.  They are locked in their coop awake and ready to eat.  By the time I get there, Speckles, the leader of the Fluffy Butt's has been crowing, waking up the whole neighborhood and completely blowing our cover since we're not supposed to have chickens here in the first place.
His fate is still to be determined…
Anyway, my routine takes 5 minutes; I could probably do it in less time but Buddy forces me to play ball with him in the process.
I move the coop about 10 feet so the chickens have fresh grass, move the run, open the door, shake the feed bucket, and fill the water bowl. That's it!
The coop and run are still a work in progress, and I plan on adding a gravity-fed watering can soon.
How do you take care of your chickens? 
Did you enjoy this article?